What is an "AKA VIP Week"?
The great flexibility of AKA instructor will allow you to book a "special course tailor-made for you".
For the whole week you may have at your complete disposal:
The instructor
Boat with compressor on board
The whole range of new generation materials that the school makes available
What does "AKA VIP Week" consist in?
Corrado (AKA instructor) and you decide together the location, timing and methods of your lessons based on the forecast and your needs.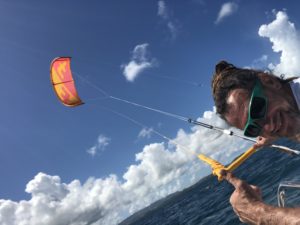 Whether you are alone, with friends or your family it can only make this experience even more fun.
It doesn't matter if you are in a resort, private villa or yacht!
Corrado can organize a comfortable transfer to his location or he can come to you and organize the lessons in any part of the island that is touched by the wind. 
In case you are on a yacht at anchor it would make it even better! You will not need to move and it will be like doing your favorite sport right outside your front door.
Corrado will come to pick you up directly on board and you can enjoy this exciting experience without any stress.
What are you waiting for? Contact AKA immediately and book your "AKA VIP week"! Clic here