AKA (Aero Kiteboarding Academy) is a kiteboarding academy conceived by Corrado, a dreamer who has dedicated his life to teaching and sports coaching.
AKA ethos is to enable all those who dream about learning to kite board a safe, technical  and enjoyable personal experience.
Who's AKA? The Instructor
AKA Instructor is Corrado Perfetto and he's from Italy and he learned to kitesurf the hard way.
In less than two hours he learned to fly the kite, and practicing body dragging in the deep waters of Lake Garda (Italy).
The following day after three hours battling with himself and the elements, Corrado managed  to stand on the board and start his maiden voyage with his first long crosswind in both directions.
In that moment he realized that sharing this experience would be his future.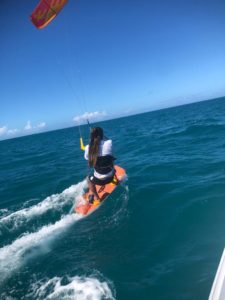 The summer season ended and  Corrado left energized with his old VolksWagen Van.
He spend the winter between Spain (on the coast, from Barcellona to Valencia, from Malaga to Tarifa) and Portugal (Faro, Porto) where he refined the riding technique and taught his very first lessons.
Corrado returned to Italy and accepted the challenge of managing a kite School in Navene (Verona), at Garda Lake .
The next 7 years kite boarding and teaching became his life.
This sport has allowed him to continue to travel and  teach thousands of people around the world in many wonderful places such as South Africa (South and East Coast), Central America (Venezuela, Guatemala, Mexico, Costa Rica) and Zanzibar (Paje Beach).
The westerly winds then took Corrado to the Caribbean and Antigua & Barbuda.
He has been working for 6 years  in one of the most unique destinations in the world to learn to kiteboard (Antigua).
Corrado obtained the instructor license from the well-known international federation VDWS, rescue license and first aid certified by the National C.P.R Foundation.
Do you want to book your lesson with Corrado? Click here