Where, when, how is possible to kiteboard in Antigua & Barbuda with AKA?
AKA was born to offer the maximum possible experience to anyone who wants to try kiteboarding, improve their technique or simply enjoy this sport in one of the most beautiful and windy islands in the Caribbean.
And so here is the answer, step by step, for the question "Where, When, How"!
WHERE
Antigua is kissed by winds all year round on the North-East, East, and South-East coasts.
AKA decided to give the best for the customers: Corrado, the instructor, thoroughly studied the characteristics of the Island and chose the best locations to carry out our activities.
We have A LOT of possibilities to choose from:
1  STINGRAY CITY, MERCERS CREEK BAY   (AKA, HEADQUARTER)

It is an enchanting bay exposed to  North-East, East, South-East winds with flat water and is one of the best known places on the island thanks to Stingray City. You can find comfortable and safe anchors for medium-sized yachts and enjoy the total tranquility the surrounding nature offers.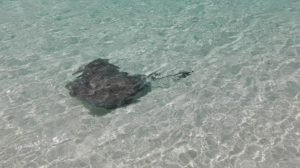 Probably the best spot of Antigua & Barbuda where to learn how to kitesurf.
The reef protects the entire bay from the waves so the water is always flat and crystal clear. A fantastic scenario!
The constant wind allows you to cruise throughout the year and in all weather conditions.
Students can learn to kitesurf in complete tranquility and security, away from any possible danger.
Everyday aka-one starts from the Stingray City dock and reaches the kite spot within a few minutes to start your lesson also launching independent riders for a kite trip or kite camp.
Singray City also offers you a large lawn space to dry kite and equipment, bathrooms with shower and ample car parking.
For those on board yachts you can reach the spot through a deep and safe pass. Aka-one will meet you and guide you to a fantastic anchorage.
—————Once you've tried this incredible kitespot you will no never want to leave.—————
2  JUMBY BAY
It is a large bay in the North-East of the Island in a beautiful location and it is the ideal place to spend a whole day aboard our dinghy "AKA-ONE" for an unforgettable kite-trip.
The spot is suitable for all levels of experience, offers a large mirror of flat water and a part with a slight chop on days of strong wind.
Lessons depart from the Shell Beach Marina  or "AKA-ONE" can come directly to your anchor.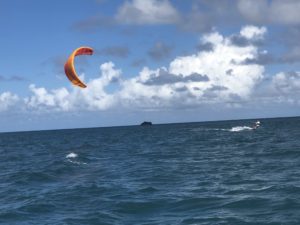 3  WILLOUGHBY BAY
It is not very far from English Harbor and offers the same characteristics as Nonsuch Bay.
It has excellent anchorages just downwind of the large reef and the best conditions for kiteboarding in this bay are South and South-East winds.
Perfect spot for beginner and advanced riders.
4️⃣ BARBUDA
It needs no introduction and there are no adjectives to describe how special it is!
More and more kiters are approaching this spot for the beauty of beaches and pristine waters.
AKA is working on a special full immersion day kite-trip package for independent kiters with their own equipment.
WHEN
It depends only on your times, the instructor availability regarding reservations and the forecast.
To organize a lesson it is important to book in advance by mail or phone. Click here to book now!
You will be contacted as soon as possible and together we organize your lessons and / or your kite-trip.
HOW
From the AKA base (@STINGRAY CITY) Corrado can easily move by sea or by land, to reach the locations with all the material necessary for the lessons based on the forecast conditions and the needs of the students.
The ability to take off and land the kite directly from the boat allows the instructor to take lessons in each of these spots directly in the water, away from beaches, reefs and all sorts of dangers.
Are you ready for your new kiteboard lesson? Contact AKA HERE